Dometic Waeco Coolfreeze CF032UP Cool Box UK
(DISCONTIUNED)
To buy this range of fridges/cool boxes & accessories head to our sister site click here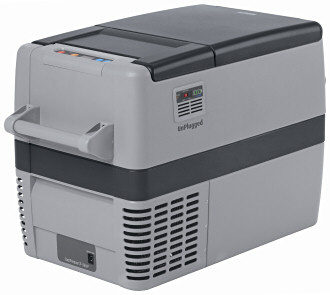 A durable coolbox with an in built battery pack
The unique Waeco CoolFreeze CF032UP Cool Box is able to carry on working for up to 18 hours in active cooling mode even when there's no mains or low voltage power readily available, thanks to it's own built in battery pack. Rechargeable from a mains or 12/24 volt supply, it's ideal for occasions when it's critical to save vital power on your vehicle or leisure battery.
As well as containing user friendly controls to adjust temperature, the Waeco CoolFreeze CF032UP Cool Box also benefits from dependable handles on either side of the coolbox to ensure safety and mobility.
This rechargable Waeco CoolFreeze CF032UP would be ideal for long lasting cooling at a picnic or even for a small sailing boat with absolutely no power supply on board at all!
The Waeco CoolFreeze CF032UP accomodates 2 litre bottles upright and has a total capacity of 31 litres.
PLEASE NOTE CURRENTLY NOT IN PRODUCTION.