Dometic Waeco Coolfreeze CDF-18 Cool Box UK
Waeco's premium cool box for basic essentials with added freezer function
The humble Waeco CoolFreeze CDF-18 Cool Box has a total capacity of 18 litres (including standing space for bottles up to 2 litres) and is perfect for fridge or freezer essentials on day trips, picnics or even festivals.
This Waeco Cool Box benefits from a handy interior light, sleek carry handle and CoolFreeze special electronics that monitor when the appliance is in use (featuring soft start and turbo cooler functions) so you can save energy on the Cool Box when you're not using it.

Built from an insulative material capable of helping to reduce power consumption on the unit, the Waeco CoolFreeze CDF-18 Cool Box is a dynamic must have for those of basic needs.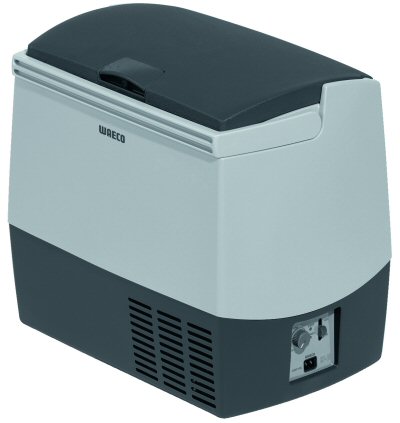 To buy this range of freezer/cool boxes & accessories head to our sister site click here
WAECO CoolFreeze CDF 18

Portable cooler and freezer for 12/24 volts DC

Gross Capacity

The Waeco CoolFreeze CDF-18 can hold approx. 18 litres

Voltage

12/24 volts DC

Temperature Range

+10°C to -18°C

Power Input

approx. 35 watts

Current Consumption

0.38 Ah/h at +20°C ambient temperature,
0.64 Ah/h at +32°C ambient temperature,
both at +5°C interior temperature

Insulation

PU foam all around

System

The Waeco Coolfreeze CDF-18 Cool Box features a compressor with integrated control electronics, low voltage protection (can be disabled), electronic fuse/automatic reverse pole protection

Material

Cabinet: PP
Lid: PE

Colour

pale grey/dark grey

Weight

approx. 11.5 kg

Test Mark

CE, TÜV/GS, e-certified (Automotive EMC Directive)

Item Designation

CoolFreeze CDF 18

Ref. No

9105100002

Accessories

Mains adapter 230 volts > 24 volts
Ref. No.: EPS-100W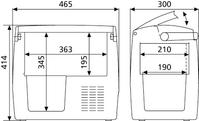 For more information please call us on 0151 334 0222
Waeco Coolpower EPS 100w 12/24v Mains Adapter

Waeco Coolpower EPS 100w 12/24v Mains Adapter. Mains adapter for hassle-free connection of 12/24 volt cooling appliances to the 230v mains. Suitable for CDF18 and CDF26