Dometic Waeco Coolfreeze CF-35 Cool Box UK
A facile, effective cool box with added freezer function
The sturdy Dometic Waeco CF-35 Freezer Cool Box is an ideal choice for users looking for a fridge with an added freezer option.
Featuring a total capacity of 31 litres (including vertical storage for bottles of up to 1.5 litres) the Waeco CoolFreeze CF-35 Cool Box also benefits from an interior light and a mounted, detachable lid to adapt to your needs.
The Waeco CF-35 Cool Box also comes with CoolFreeze Special Electronics which provide both a soft start and turbo cooler system to ensure that energy is preserved when the appliance is out of use.
An agile integrated control panel is also included on the Waeco CoolFreeze CF-35 Cool Box so you can manage the temperature of your goods with ease! Perfect for road journeys, sailing trips or excursions in hot climates where the CF-35 will still continue to reliably keep your goods cool.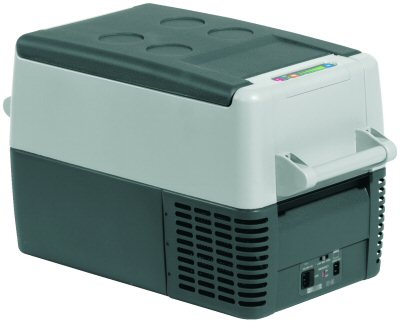 To buy this range of freezer/cool boxes & accessories head to our sister site click here
WAECO CoolFreeze CF 35

Compressor cooler and freezer with CF special electronics for 12/24 volts DC and 100-240 volts AC

Gross Capacity

The Waeco CoolFreeze CF-35 can hold approx. 31 litres (incl. 4.5 litres for fresh food)

Voltage

12/24 volts DC
100 - 240 volts AC

Temperature Range

+10°C to -18°C

Power Input

approx. 45 watts

Current Consumption

0.56 Ah/h at +20°C ambient temperature,
0.71 Ah/h at +32°C ambient temperature,
both at +5°C interior temperature

Insulation

PU foam all around

System

Danfoss BD35F compressor with integrated control electronics, electronic thermostat, low voltage protection / electronic fuse, automatic reverse pole protection.

The Waeco CF-35 Cool Box features CoolFreeze special electronics: Intelligent, automatic turbo cooler - 3-stage battery protection, set using the digital display - 4-digit display - display readout in Celsius or Fahrenheit - Temperature freely adjustable using the display - Display of current interior temperature - Status and error indication by 2 separate LEDs - memory function saves the last settings

Material

Cabinet: PP
Lid: PE

Colour

pale grey/dark grey

Weight

approx. 15.0 kg

Test Mark

CE, TÜV/GS, e-certified (Automotive EMC Directive)

Supplied With

Detachable carrying handles

Item Designation

CoolFreeze CF 35

Ref. No

CF-035AC

Accessories

Universal fixing kit
Ref. No.: UFK-C

Insulating protective cover for CoolFreeze CF 35
Ref. No.: IC-CF-35

The Waeco CoolFreeze CF-35 Cool Box runs off a 3-pin plug-in system for fix installed power supply
Ref. No.: 2225400001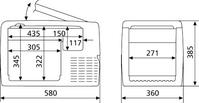 | | |
| --- | --- |
| | |
For more information please call us on 0151 334 0222

100-240 Volts



12/24 Volts

Suitable for solar operation


Temperature range
+10°C to -18°C

This coolbox will come with a UK plug