Dometic Waeco CoolFreeze CF-110 Cool Box UK
The sizeably robust coolmatic cool box with a freezer function
A large and accomodating portable cooler device, the Waeco Coolfreeze CF-110 Cool Cox provides an ample total capacity of 106 litres, including standing space for bottles of up to 2 litres and is perfect for those with a lot on their plate!
The Waeco CF-110 Cool Box uses CoolFreeze special electronics that provide a soft start and turbo cooler (saving crucial energy whilst the cool box is out of use) and comes complete with a handy interior light, durable carry handle and a detachable lid for ease of access.
This sizeable Waeco CF-110 Cool Box is perfect for long trips, large gatherings or for people longing to camp with a luxurious, cool bounty. The choice is yours!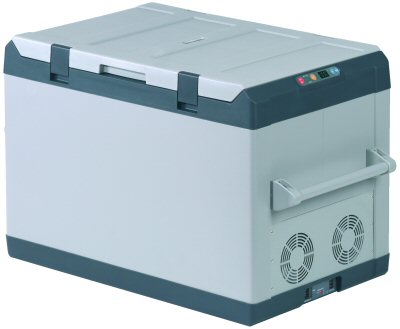 To buy this range of freezer/cool boxes & accessories head to our sister site click here
WAECO CoolFreeze CF 110

Compressor cooler and freezer with CF special electronics for 12/24 volts DC and 100-240 volts AC

Gross Capacity

The Waeco CoolFreeze CF-110 can hold approx. 106 litres (incl. 13 litres for fresh food)

Voltage

12/24 volts DC
100 - 240 volts AC

Temperature Range

+10°C to -18°C

Power Input

approx. 65 watts

Current Consumption

0.76 Ah/h at +20°C ambient temperature,
1.35 Ah/h at +32°C ambient temperature,
both at +5°C interior temperature

Insulation

PU foam all around

System

Danfoss BD50F compressor with integrated control electronics, electronic thermostat, low voltage protection / electronic fuse, automatic reverse pole protection.

The Waeco CoolFreeze CF-110 features CoolFreeze special electronics: Intelligent, automatic turbo cooler - 3-stage battery protection, set using the digital display - 4-digit display - display readout in Celsius or Fahrenheit - temperature freely adjustable using the display - display of current interior temperature - status and error indication by 2 separate LEDs - memory function saves the last settings

Material

Cabinet: coated sheet steel
Top and base: PP
Lid: PE

Colour

pale grey/dark grey

Weight

approx. 33.0 kg

Test mark

CE, TÜV/GS, e-certified (Automotive EMC Directive)

Supplied With

Removable wire basket, detachable carrying handles

Item Designation

CoolFreeze CF 110

Ref. No

CF-110AC

Accessories

Insulating protective cover for CoolFreeze CF 110
Ref. No.: IC-CF-110

The Waeco CoolFreeze CF-110 runs off a 3-pin plug-in system for fix installed power supply
Ref. No.: 2225400001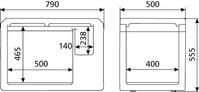 | | |
| --- | --- |
| | |
For more information please call us on 0151 334 0222

100-240 Volts



12/24 Volts

Suitable for solar operation


Temperature range
+10°C to -18°C