Dometic Waeco CD-30 Drawer Fridge For Caravans and Motorhomes UK
Waeco's secure and versatile drawer fridge for caravans and motorhomes
The Waeco CD-30 drawer fridge is a smooth operator that guarantees convenient, easy access thanks to the ease of action drawers based on roller bearing slides. Unlock and open the Waeco CD-30 Drawer Fridge with a single movement, providing you with immediate and effortless access whenever you need it.
The Waeco CD-30 also gives users the ability to regulate temperature with a continuously variable thermostat, putting you in complete control of your cool. With a total capacity of 30 litres, the Waeco CD-30 Drawer Fridge is ideal for basic food and drink and also features a safe locking mechanism, to keep your goods secure whilst on the road.

The cooling unit can be fitted to either side of the cooling unit, or up to 1.5 metres away.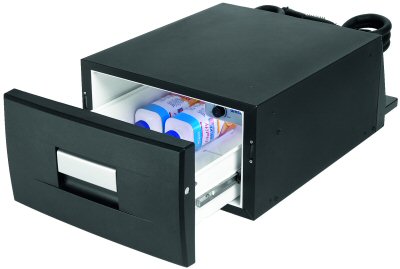 To buy this range of freezer/cool boxes & accessories head to our sister site click here
| | |
| --- | --- |
| Model | CD-30 Drawer Fridge |
| Gross Capacity (litres) | The Waeco CoolFreeze CD-30 Drawer Fridge can hold up to approx. 30 litres |
| Voltage | 12/24 volts DC |
| Temperture Range | Up to 32 °C below ambient temperature |
| Dimensions (WxHxD) | 440 x 250 x 730 mm |
| Weight (kg) | 19kg |
| Quality Features | The Waeco CoolFreeze CD-30 Drawer fridge features a fully hermetic Danfoss BD35F compressor with integrated control electronics, low-voltage protection for starter battery, electronic fuse/automatic reverse pole protection, dynamically ventilated wire tube condenser, aluminium rollbond evaporator, heat dissipation to the outside with brushless wear-free fan, convenient access with easy-pull drawers running on roller bearing slides, temperature regulation with continuously variable thermostat, unlocking and opening with a single movement, safe locking mechanism. The cooling unit can be fitted to the side of the cooler (left/right), or up to 1.5 metres away. |

For more information please call us on 0151 334 0222
Battery Monitor

Enables auto cut-off at low battery & cut-in at normal
LED's Indicate Status

Cable length: 1 metre

Cut-Off: 11.6 Volts

Cut-In: 12.8 Volts

Current: 5 Amps Max