Thetford Premium LCD N180 Caravan Fridge
Thetford's fridge with electric ignition for use in caravans and motorhomes
Equipped with electric ignition and Smart Energy Selection (SES)
The Thetford Premium LCD N180 caravan fridge is the first refrigerator to feature an electric ignition and is equipped with Smart Energy Selection (SES) that automatically selects the optimal energy source.
Terrific organisational and safeguard features
Featuring a handy internal light, the Thetford N180 fridge also includes 3 storage racks, 3 door racks, and a vegetable bin. A click and slide plastic strip, as well as a bottle slide on the lower rack of the door, are provided to keep your goods (including larger bottles!) in place whilst driving.
Spacious storage for refrigeration and freezing
With a gross capacity of 180 litres (including 11 litres for the added freezer compartment so you can also store frozen goods) the Thretford N180 fridge offers ample storage space and also benefits from an automatic defrost cycle.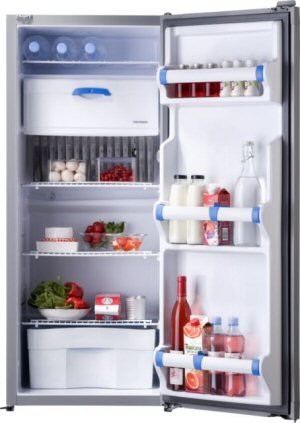 Discontinued