Thetford Premium LCD N145 Caravan Fridge
A large, automatic absorption fridge from Thetford
Stupendous space for refrigeration and freezing
As one of the larger models from Thetford refrigerators, the Thetford Premium LCD N145 Caravan Fridge contains a myriad of space for food and drink, including a powerful freezer compartment that sits above the cooler (with a gross capacity of 140 litres, including 23 for the freezer) and will make a fantastic, reliable addition to your caravan or motorhome.
Intelligently receptive
The Thetford N145 Fridge features a Smart Energy Selection (SES) system which automatically selects the best energy source available (using an electric ignition, even when gas is selected), and also benefits from the addition of an ever popular LCD display, as well as an intuitive defrost cycle and self diagnosis.
Flexible and secure storage
With 3 shelves, 3 door racks, a vegetable bin and a flexible bottle slide and bottle retainer (to keep even big bottles from sliding around whilst you're driving), the Thetford N145 fridge is an adjustable, intelligent double door model that incorporates key safety features which will ensure a securely shut door, and stable contents.
To buy the replacement for this model the Thetford N4145 Fridge & accessories head to our sister site click here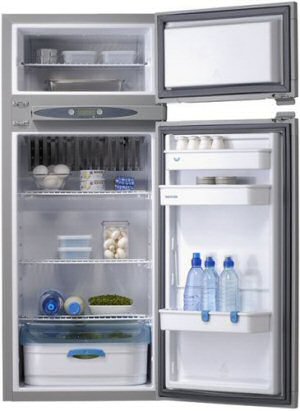 Discontinued