Thetford Cassette C-402 Caravan Toilet
An adjustable motorhome toilet with added convenience

Incredibly user friendly
Featuring a 19.3 litre waste tank and a 15 litre flush water tank capacity, the Thetford Cassetter C-402 Caravan Toilet also comes optimised with a range of invaluable features for added usability.
Optimised for complete ease of use
The Thetford C-402 caravan toilet comes with an LED waste tank level indicator, an intergrated no splash pour spout and is available with its electric push button flush on either the right or left hand side.
Holding tank adjustable for convenience
The holding tank of the Thetford C-402 caravan toilet also has a convenient retractable handle for easy transportation, contains wheels and also has a removable working mechanism making the inside of the tank easy to clean and maintain.

Electric push button flush

Waste holding tank on wheels

LED display indicates when waste tank is full

Integrated no-splash pour spout

Waste tank capacity: 19.3L

Flush water tank capacity: 15L

Available with the flush on the right or left hand side
For more information please call us on 0151 334 0222
| | |
| --- | --- |
| Thetford Cassette C-402 Caravan Toilet - Right Hand Flush | Availablity: |
| Thetford Cassette C-402 Caravan Toilet - Left Hand Flush | Availablity: |

Sanitation Products / Chemical Additives
To ensure the efficient operation of chemical toilets, it is necessary to use toilet additives. Thetford offers a complete range of toilet additives to suit the varying needs of mobile toilets for camping, caravanning and domestic use.

What do Thetford toilet additives do? …Thetford waste holding tank additives reduce unpleasant odours and gas build-up. They break down waste matter in toilet holding tanks and prevent clogging. They also prevent deposits from sticking to the inside of waste tanks. Toilet additives are necessary to make mobile sanitation systems work trouble free. Our flush water tank additives keep the water 'fresh', ensures a smoother, better flush and leaves a protective film in the toilet bowl.

What types of additives are available for chemical toilets? …There are additives for the waste holding tank, for the flush water tank and there are maintenance products. Your chemical toilet in general requires two main chemicals, the chemical for the bottom "waste" tank, either Aquakem blue or green is suitable and is essential, and flushing fluid "Aqua rinse" which is optional and is added to the flushing water top tank. Although Aqua Rinse is not essential it makes usage of a chemical toilet a more pleasant experience.

AquaKem Blue Waste Tank Additive

AquaKem Blue breaks down waste matter and controls odours in all portable toilets and Porta Potti's. Aquakem Blue is not suitable for use with Septic Tanks.





Availablity:

AquaKem Green Waste Tank Additive

Aquakem Green is both powerful and effective at neutralizing waste and is suitable for use with septic tanks too.






Availablity:

AquaRinse Pink Water Tank Additive

AquaRinse Pink is use to keep the water in the flush tank fresh, it also leaves a protective film over the toilet bowl.






Availablity:

Thetford Tank Freshner

Thetford Tank freshener fluid, reduces deposits and grease contamination in tank and pipework in cassette. For use in Thetford and other portable toilets.
Pleasantly pine scented
Safe for use with all plastics.

Availablity:
Thetford Triple Pack
The Thetford triple pack contains everything you need to get started using your toilet. It includes: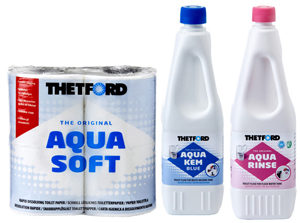 1.5 Litres AquaKem Blue
1.5 Litres AquaRinse Pink
4 Pack of AquaSoft Toilet Rolls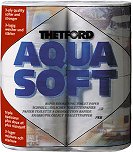 Aqua Soft Toilet Rolls
Aqua Soft toilet rolls specially formulated for chemical toilets, Aqua Soft toilet rolls dissolve easily and do not block tanks or waste valves. 4 Pack
Availablity: