Dometic RF60 Fridge UK
Standalone camping fridge for use in caravans and motorhomes
Previously branded Waeco, the Dometic RF60 is the replacement for the Waeco CAS60 and can be run off three different power sources, making it a great versatile camping fridge and camping accessory.
A great fridge for inside your motorhome or caravan awning

Portable, convenient and versatile, the Dometic RF60 absorption caravan refrigerator is a cool piece of kit for camping and caravan enthusiasts. Its particular strength is its ability to transform 3 energy sources (12V, 230V & gas) into amazing cooling power. This means you can take it where you need to, and with its spacious 60 ltr interior it can be well-equipped just like your fridge at home. And what's more, refrigeration is silent, so the Dometic RF60 won't disturb your sleep as it keeps things cool.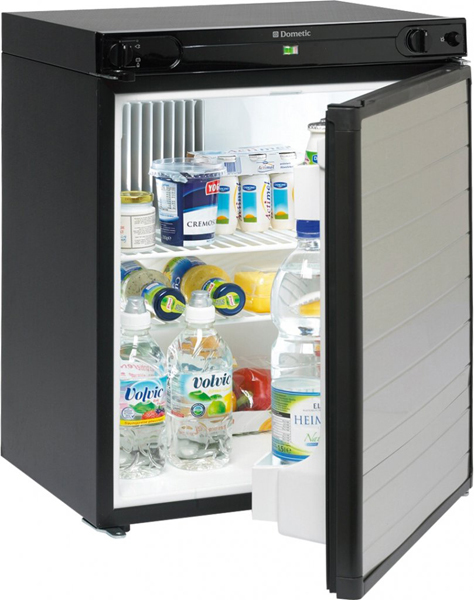 To buy the Dometic RF60 Fridge & accessories head to our sister site click here
| | | | |
| --- | --- | --- | --- |
Model
Dometic RF60
Gross Capacity (litres)
60
Voltage
12 volts DC, 230 volts AC (220 - 240 volts)
Temperature Range
Up to 30°C below ambient temperature
Dimensions (WxHxD)
486 x 615 x 490 mm
Weight (kg)
26kg

Maximum Input

Gas

Electric 230v (watts)

Electric 12v (watts)

-

14.8

110

110

Consumption

Electric kWh/24 hrs

gas g/24 hrs

-

1.9

325 - 375

Quality Features

Piezo ignition, thermostat regulation in 230-volt and gas mode, two door shelves, adjustable shelves, flame indicator, door locking with vent option
For more information please call us on 0151 334 0222
The Dometic RF60 3 way fridge will run off the following
| | | |
| --- | --- | --- |
| 12v power supply | 230v mains | LPG gas |